Maelstrom's Edge V2 Beta Rules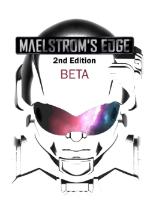 You can get a head start on the upcoming 2nd edition of the Maelstrom's Edge rules by downloading a PDF version of the Beta rules documents below. Please note that images and layout are not final, background fiction is not yet in place, and there may be changes to the rules before final publication, based on player feedback and internal playtesting.
We welcome any feedback on your games with these rules. Visit us at the
Comm Guild Facebook group
, or in the Maelstrom's Edge discussion section on the
Dakka Dakka forums
.
Maelstrom's Edge V2 Beta Rules Documents
Rulebook
Artarian Remnant Faction List
Broken Faction List
Epirian Foundation Faction List
Karist Enclave Faction List
Update, 25th April 2022: Artarian Remnant doc updated to include Militus Holista.
---
Maelstrom's Edge V2 Beta Homebrew Rules Documents
These are unofficial rules, to use with whichever appropriate miniatures you have to hand.
Imperial Marines
Trial Rules - V2 Beta
V2 Rules Articles