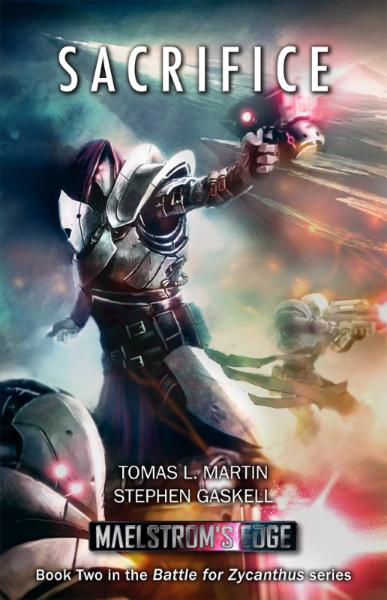 Sacrifice
$7.50
The print version of the second Maelstrom's Edge novel - Sacrifice. Sacrifice is the second novel in the Battle for Zycanthus series, set in the Maelstrom's Edge universe. In the far future, a golden age of exploration and progress has been shattered. Humanity and alien alike are on the very edge of annihilation.
Back to Store
Maelstrom's Edge: Sacrifice follows on from the events in the first book in the series, Maelstrom's Edge: Faith. The Karist Enclave's plan to save the world of Zycanthus is in tatters. Shocked by their terrible losses at the hands of Epirian forces, Zafah joins the Karist military knowing the time for artful persuasion is over.

Meanwhile, Sheriff Kyle Wynn is struggling to convince his Foundation bosses of the threat the Karists still pose. But when he infiltrates a Karist base, he discovers that their intentions are far greater and more dangerous than even he could have imagined...

Zafah and Wynn are thrown into an escalating tussle for supremacy of Zycanthus, both on the planet's surface and in orbit. With the shadow of the Maelstrom hanging over them, the outcome of this clash will decide the fate of millions. Will the robotic might of the Epirian Foundation or the inner faith of the Karist Enclave emerge triumphant?



Shipping Region/Currency:



- USD

Change:






RoW
Free shipping on orders over $150