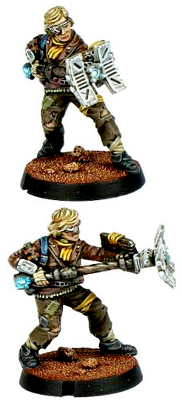 Sig Jammer
$12.00
This resin kit consists of a Broken Sig Jammer, equipped with a targeting scrambler, tech disruptor and grenade harness.
Back to Store

The ramshackle fleets of the Broken don't possess extensive R&D departments or mass production facilities, but what they lack in investment, they make up for in unregulated ingenuity and daring invention. The Broken is a haven for technological savants and rebellious hackers, rulebreakers ostracised and hunted by a society scared of their technological prowess. Whether driven to the Broken by the Maelstrom or the authorities, these maverick inventors are encouraged to experiment and tinker. These 'Jammers' soon thrive among the Broken ranks, using their skills to break into computer networks, disrupt signals, and generally set technology against their users. It is a rare mercurial talent to be able to invent the kind of disruptive equipment the Jammers carry, and sending a Jammer Savant deep into enemy territory is not a viable strategy. Instead, Broken leadership encourages anyone with a natural aptitude for technology to become an apprentice, or 'Sig Jammer'. In peacetime, these neophytes are a mixture of servant and apprentice, taking care of a Savant's every need, or searching for the particular parts needed to complete the Savant's latest technological masterpiece.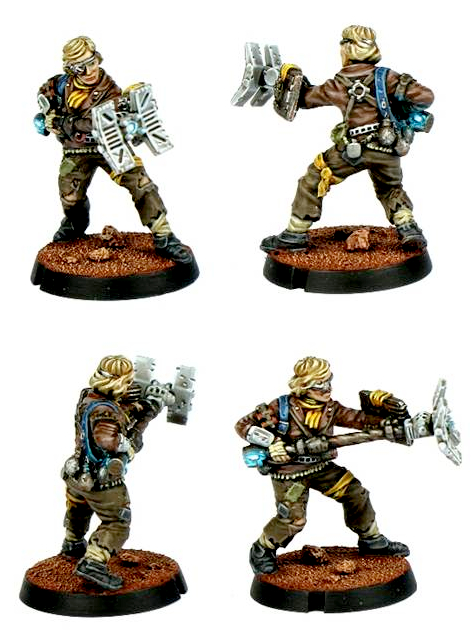 Once the Broken go to war, Sig Jammers are given disruption tech and thrust towards the enemy to cause havoc. A Sig Jammer's average lifespan doesn't tend to be terribly long, yet there is never a shortage of souls looking to become one. In fact, in some Broken societies, a lottery has to be held to select new Sig Jammers from amongst all the hopefuls. This is easier to understand when the alternative is being drafted into a Broken Rabble unit, which is roughly akin to being thrown into a meat grinder. In battle, Sig Jammers sneak near enemy lines and wage short-ranged technological warfare on the enemy, degrading their weapon systems and disrupting their broadcast frequencies. Sig Jammers project a localised disruptive field from their Tech Disruptor beam weapons to hamper electronic devices, disorienting or shutting down enemy targeting and support systems. Sig Jammers also use their arm-mounted targeting scrambler for protection, sending out dozens of false positives to enemy targeting computers, causing additional confusion and pandemonium amongst their adversaries.

Shipping Region/Currency:



- USD

Change:






RoW
Free shipping on orders over $150