Gnolti STL
$15.00
This digital model pack contains STL files to print a Gnolti model. Included are the following:
- Single-piece Gnolti model, unsupported
- Single-piece Gnolti model, supported
- Split Gnolti model parts, matching the resin
production version
.
In Maelstrom's Edge games, the Gnolti is fielded on a 54mm base, available
here
.
Please note that this is a digital file, not a physical product.
Back to Store
The Gnolti are large, slow moving creatures with strength many times that of a human. Gnolti evolved on the high gravity moon orbiting the gas giant Encelasa, and were amongst the first alien species met by humanity. Many Gnolti remain on their homeworld, but some take up a nomadic life across the Spiral Arm, earning money with their bulky frames to send back home. Originally hired and transported to systems requiring extreme manual labour or exposure to elements lethal to humans, their normally calm, thoughtful temperament made Gnolti easy to integrate into human society. Gnolti are extremely loyal to those who treat them well, gladly risking themselves to protect their friends. Despite being incredibly useful, Gnolti are often denied berths on planetary evacuation ships due to their extreme size. Gnoltis have few opportunities to escape the Maelstrom, and stranded Gnolti are a common recruit into the ragtag warbands of the Broken, where their physical power can be a huge asset.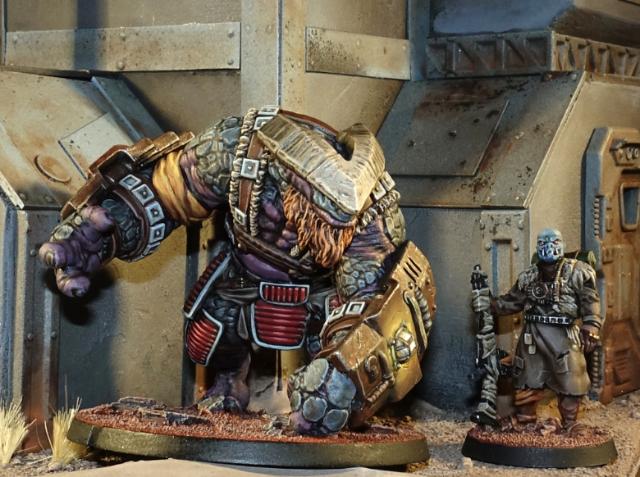 It takes an incredible amount of punishment to bring down a Gnolti in battle. Besides their massive strength and incredible toughness, Gnolti are blessed with an extreme regenerative trait that allows them to heal in just minutes massive wounds that would easily fell other species. Gnolti may be slow to anger, but once roused, their rage is hard to quench. A rampaging Gnolti is an image impossible to forget for those lucky enough to survive their attack. Frequently a Broken ringleader won't even arm their Gnolti comrades, as the spectacle of an enraged charging Gnolti can disrupt all but the most disciplined defensive lines. This near legendary reputation means that on the battlefield, Gnolti become a primary target of the enemy, regardless of whether they should be or not. The Broken gladly leverage this notion and use Gnolti as a screen for their more vulnerable units. The ferocity and size of a Gnolti is even used as a distraction tactic, drawing the fire of enemy troops so that other Broken can manoeuvre unhindered, to devastating effect. The Broken do not take the sacrifice of Gnolti lightly. At the end of each battle, Gnolti are given first pick of any loot that was captured, and every member of the warband stops by to wish thanks to the Gnolti they served with, or to pay homage to those Gnolti that didn't survive.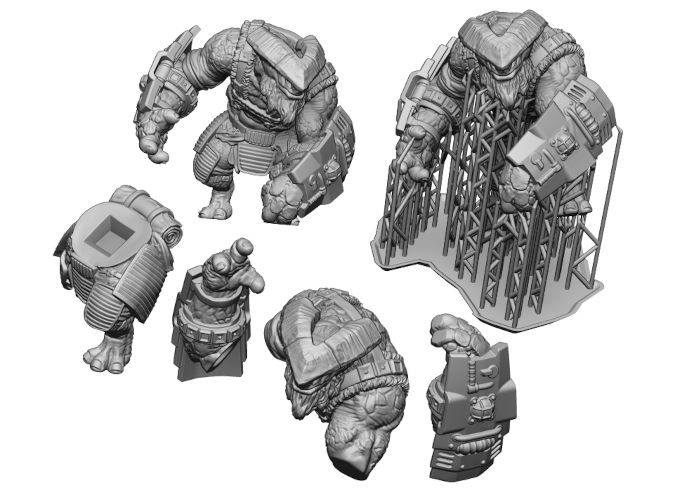 Included STL components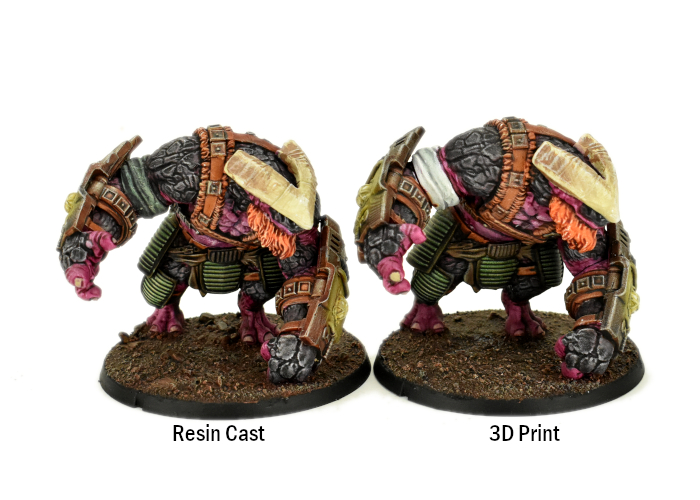 Resin production model and a 3D printed example, painted to a tabletop-ready standard - printed on an Anycubic Photon using Anycubic Grey resin at 50μm using Lychee slicer.

Printing results will vary depending on your printer, resin and settings.

Shipping Region/Currency:



- USD

Change:






RoW
Free shipping on orders over $150