Faction and Unit Rules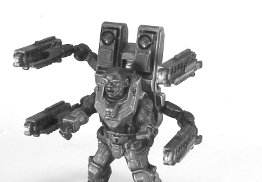 Konstantin Moor, Veteran Bot Handler
A veteran of countless battles, Konstantin Moor wages war with his customised weapon rig and his drone companions Iago and Cassio.
Name
MV
EVS
SKL
AV
MAS
FOR
WP
Model Type
Cassio
6
4
3
3
1
1
3

Infantry

(Robot, Hover)

Iago
6
4
3
3
1
1
3

Infantry

(Robot)

Konstantin Moor
6
3
4
4
3
2
5

Infantry

(Human, Squad Leader, Solo)
© Spiral Arm Studios 2023
UNIT OPTIONS
36.1223
Unit Abilities
(Field (D3))
Ignore D3 hits each round of shooting. Cannot be used the same round that cover or another ability ignores hits.

Bot Handler
All robots in this unit have the Bodyguard (4+) ability. When a bot handler issues an order to a unit with Bot Protocols, and that unit passes its activation discipline check, their Bot Protocols are enabled. A bot handler can issue an order to a unit with no STs.

Command (2)
This model generates +2 command points each turn into your command point pool. Command points can be allocated to this model, not exceeding its WP. This model can issue an order to a unit within 18" when that unit is activated, removing STs from the unit equal to the command points expended. This model can issue up to 2 orders per turn.

Fire Assist (+1)
A model with this ability is able to fire (+1) more weapons during each round of shooting than they are normally allowed. Note that when a model is not allowed to fire at all, this ability does not allow them to.


Unit Equipment
Linked Cluster Missile Pods
RNG
30"
SHO
1+SB(+1)
PEN
3
DAM
1
Special: AoE (SB), Burst (6+), Guided, Heavy
(Quad Laser Array)
RNG
24"
SHO
4
PEN
4
DAM
2
Special: Beam, Paint (5+)
Micro Drone - Command Booster
The model's command range is increased to 24". For a
Command (0)
model, this instead gives it a normal 18" command range.
Neural Bot Interface
Add +1 to the model's
Command
ability (thereby allowing it to generate +1 command point per turn and also issue +1 order per turn).
Neural Node
Each turn, as long as a command model does not fire as part of its main action, each Neural Node it is equipped with allows the model to issue an order to one more friendly unit than is normally allowed. Note that when a command model isn't allowed to issue any orders at all, a Neural Node does not allow them to.