Faction and Unit Rules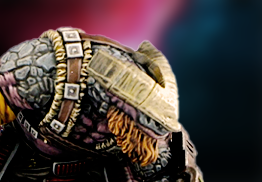 Gnolti
Gnolti are slow to anger, but once roused their rage is hard to quench.
Name
MV
EVS
SKL
AV
MAS
FOR
WP
Model Type
Gnolti
4
1
3
5/3
3
4
3

Behemoth

(Xeno)
© Spiral Arm Studios 2023
UNIT OPTIONS


Multi-Unit Selection: Up to 2 separate Gnolti units may be taken as a single

selection.
24.0123
Unit Abilities
Bloodthirsty
This unit can elect to perform a Charge action instead of a compulsory Dig-in or Shaken action, but it must charge the enemy unit it can reach by the shortest route.

Fire Magnet
A unit with the Fire Magnet ability shields friendly units within 3". Shielded units cannot be selected as a primary target for a round of shooting, provided the fire magnet unit is both closer to the shooting unit and a valid target. Shooting that dictates a specific target (CQ fighting, defensive fire, hit & run, etc.) ignores this ability. A unit inside a building cannot shield other units, nor can large models be shielded by standard sized models.

Regeneration
This unit shakes-off an extra D3 STs when completing its main action not on the move. In addition, if the unit contains any multi-fortitude models, it can forgo removing some of its STs to instead heal an injury. To heal an injury, the unit must forgo removing a number of STs equal to the injured multi-wound model's MAS characteristic. So to heal an injury on a MAS 3 model, a unit would have to forgo removing 3 STs. A model cannot heal more than one injury per turn this way.


Unit Equipment
Massive Fist
RNG
CQ
SHO
-
PEN
+2
DAM
2
Special: Heavy, Melee