Faction and Unit Rules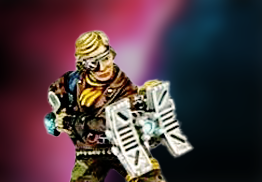 Sig Jammer
Disruption of enemy communications and weapons is the game and Sig Jammers play it very well.
Name
MV
EVS
SKL
AV
MAS
FOR
WP
Model Type
Sig Jammer
7
3
1
2
2
2
2

Infantry

(Human, Solo)
© Spiral Arm Studios 2023
UNIT OPTIONS


Multi-Unit Selection: Up to 2 separate Sig Jammer units may be taken as a single

selection.
26.0123
Unit Equipment
Grenade Harness
This model has cluster grenades, molotov bombs and overcharged powercells. A model may not have more than one grenade harness.
Targeting Scrambler
This model has the
Field (4)
ability and for each hit ignored by this ability, the firing unit also gains 1 ST. This ability may not be used to ignore hits from short range or CQ fighting attacks.
Field (4)
Ignore 4 hits each round of shooting. Cannot be used the same round that cover or another ability ignores hits.
Tech Disruptor
RNG
18"
SHO
-
PEN
-
DAM
-
Special: Disruptor
Disruptor
: This weapon does not cause hits or damage. When fired, as long as the shooting is not wild, choose one of the following options:
•
Low Power:
The target gains 1 additional ST.
•
Full Power:
The target gains 1+D3 additional STs, but the firing model's
Field
ability is reduced to 1 until it activates next turn. The full power option may not be chosen if the firing model's
Field
ability is currently reduced to 1 (or less).