Faction and Unit Rules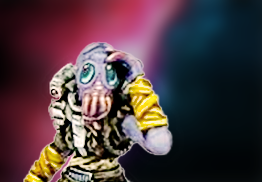 Marsayan Hypnotist
Marsayan hypnotists look harmless, right until they get into your mind.
Name
MV
EVS
SKL
AV
MAS
FOR
WP
Model Type
Marsayan Hypnotist
7
4
2
2
2
1
2*

Infantry

(Xeno)
© Spiral Arm Studios 2023
UNIT OPTIONS
Add-on: May add up to 1 Marsayan Hypnotists to the following units, without exceeding their normal maximum size:

Broken Rabble: +1 pt
Broken Rabble: +1 pt
Rabble Fire Support: +1 pt
Rabble Fire Support: +1 pt
Rabble Assault: +2 pts
28.0123
Unit Abilities
Hypnotist
This unit is always a fleeting target. In addition, all models in this unit have the Dodge (3) ability against short ranged shooting and CQ fighting.

Mob Mentality
This modelís WP characteristic is equal to the total number of models in the unit that share this ability, unless that number is lower than the modelís actual WP characteristic value. Models with the Mob Mentality ability have an asterisk listed with their WP characteristic value as a reminder of this ability.