Faction and Unit Rules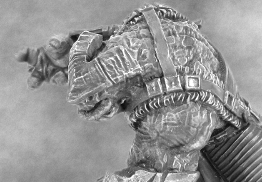 Gnolti Berserker
Some Gnolti are driven beserk by the stress of battle, turning them into unstoppable juggernauts of rage.
Name
MV
EVS
SKL
AV
MAS
FOR
WP
Model Type
Gnolti Berserker
5
1
3
3
3
4
3

Behemoth

(Xeno)
© Spiral Arm Studios 2023
UNIT OPTIONS


Multi-Unit Selection: Up to 2 separate Gnolti Berserker units may be taken as a single

selection.
47.0123
Unit Abilities
Bloodthirsty
This unit can elect to perform a Charge action instead of a compulsory Dig-in or Shaken action, but it must charge the enemy unit it can reach by the shortest route.

Fire Magnet
A unit with the Fire Magnet ability shields friendly units within 3". Shielded units cannot be selected as a primary target for a round of shooting, provided the fire magnet unit is both closer to the shooting unit and a valid target. Shooting that dictates a specific target (CQ fighting, defensive fire, hit & run, etc.) ignores this ability. A unit inside a building cannot shield other units, nor can large models be shielded by standard sized models.

Linebreaker
When an enemy unit takes a CQ discipline check caused by this unit, the result needed to pass is increased by one.

Regeneration
This unit shakes-off an extra D3 STs when completing its main action not on the move. In addition, if the unit contains any multi-fortitude models, it can forgo removing some of its STs to instead heal an injury. To heal an injury, the unit must forgo removing a number of STs equal to the injured multi-wound model's MAS characteristic. So to heal an injury on a MAS 3 model, a unit would have to forgo removing 3 STs. A model cannot heal more than one injury per turn this way.


Unit Equipment
(Massive Blades)
RNG
CQ
SHO
-
PEN
+3
DAM
3
Special: Heavy, Melee