Faction and Unit Rules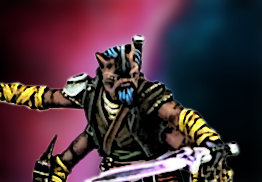 Hakoyu Grand Master
Trained in traditional hand-to-hand combat techniques, Hakoyu Grand Masters are valued additions to Broken assault units.
Name
MV
EVS
SKL
AV
MAS
FOR
WP
Model Type

Hakoyu

Grand Master

7
6
6
3
2
2
4

Infantry

(Xeno)
© Spiral Arm Studios 2023
UNIT OPTIONS
Add-on: May add up to 2 Hakoyu Grand Master to the following units, without exceeding their normal maximum size:

Rabble Assault: +4 pts
51.0123
Unit Abilities
Bloodthirsty
This unit can elect to perform a Charge action instead of a compulsory Dig-in or Shaken action, but it must charge the enemy unit it can reach by the shortest route.

Deflect (2)
(squad ability) A unit with this ability can ignore up to (X) melee hits inflicted upon it during a round of CQ fighting. Add +1 to a unit's Deflect ability value for each additional model in the unit that also has the Deflect ability. For example, a unit containing 3 models with Deflect (2) would be able to ignore up to 4 melee hits during a round of CQ fighting. A unit that utilizes its Deflect ability to ignore one or more hits cannot also ignore hits via any other method, such as the Dodge or Field ability.


Unit Equipment
Hakoyu Phase Weapon
RNG
CQ
SHO
-
PEN
+2
DAM
1
Special: EMP (4+), Melee