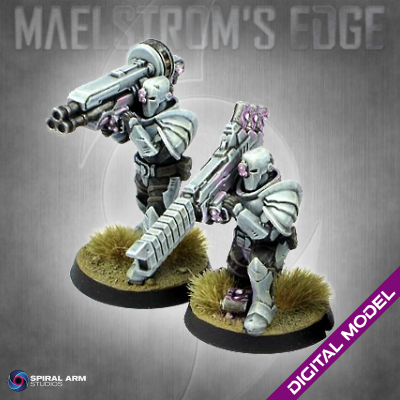 Karist Heavy Trooper STL
$6.00
This digital model pack contains STL files to print Karist Heavy Trooper models. Included are both a supported and unsupported set of files, with a kneeling and standing body, two different heads and left arms, and right arms holding a Cybel Lance, Ripper Heavy Grenade Launcher and Ravager Pulse Cannon.
In Maelstrom's Edge games, Heavy Troopers are fielded on 25mm bases, available
here
.
Please note that this is a digital file, not a physical product.
Back to Store
Armed with some of the most powerful weapons in the Karist arsenal, Karist Heavy Weapon troopers can be added to an existing Karist Trooper squad, or can form a Karist Trooper Heavy Squad capable of taking out even the most fearsome enemies. Find out more about the shadowy Karist Enclave
here
.
Heavy Troopers can be added to regular Trooper units, or fielded as a fire support unit in Karist forces. You can find out more in the
rules section
.
Karist Heavy Trooper STL
$6.00

Shipping Region/Currency:



- USD

Change:






RoW
Free shipping on orders over $150