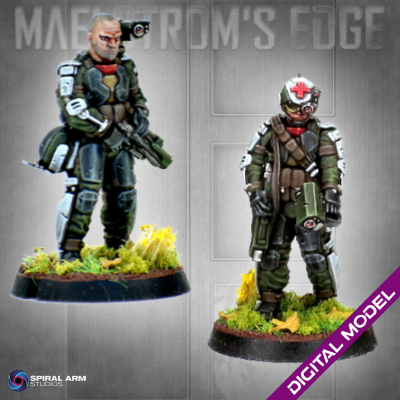 SecDef Characters STL
$6.00
This digital model pack contains STL files for SecDef Lieutenant and Medic models.
File includes both supported and unsupported versions, and two weapon options for the Lieutenant.
Please note that this is a digital file, not a physical product.
Back to Store
Promoted from amongst the most capable veteran sergeants, SecDef lieutenants are level-headed combat experts on both a tactical and strategic level with extensive financial and material resources to hand.
SecDef Medics are combat veterans who have received additional training and equipment to administer first aid in the field. Known for being level-headed under fire, medics accompany SecDef tactical teams in the field, where they need to be equally competent at using their carbines or treating wounded squadmates.
Find out more about these specialist warriors in the Epirian Foundation section
here
, and grab their rules from the downloads section
here
.
SecDef Characters STL
$6.00

Shipping Region/Currency:



- USD

Change:






RoW
Free shipping on orders over $150