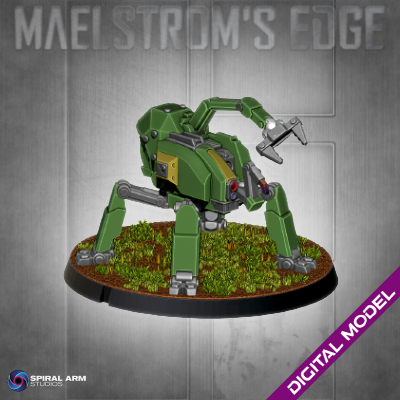 Support Drone STL
$4.50
This digital model pack contains STL files for an Epirian Support Drone. Includes both supported and unsupported versions, and multiple equipment options.
In Maelstrom's Edge games, the Support Drone is fielded on a 46mm base, available
here
.
Please note that this is a digital file, not a physical product.
Back to Store
Providing a more stable and reliable platform than human troops, Contractor Drones are used in Epirian forces to add heavy firepower or specialised tactical options to Contractor units.
This kit is comprised of a Support Drone chassis, and optional parts to equip it to join any of three different Contractor unit types. The Recon Package is the standard gear for support drones utilised by Contractor Scout units. Contractor Engineers make use of tool-equipped drones to effect repairs on other damaged bots, while medical drones in Contractor Medic units patch up the force's less hardy human elements.
Note: This model has been slightly updated from the original resin version, featuring taller legs to boost the overall size of the drone.
Find out more about the Epirian Foundation
here
, and grab their rules from the downloads section
here
.

Shipping Region/Currency:



- USD

Change:






RoW
Free shipping on orders over $150