Faction and Unit Rules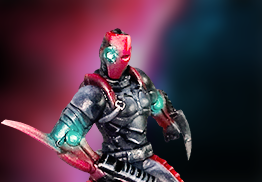 Shadow Walker
Rift teleportation allows these mysterious agents to infiltrate governments and battlefields alike.
Name
MV
EVS
SKL
AV
MAS
FOR
WP
Model Type
Shadow Walker
7
5
6
3
2
2
4

Infantry

(Human, Mobile, Solo, Hierarch Caste)
© Spiral Arm Studios 2023
UNIT OPTIONS
May be equipped with Cybel Mines: +1 pt each.


Multi-Unit Selection: Up to 2 separate Shadow Walker units may be taken as a single

selection.
18.1223
Unit Abilities
Dynamic Move
This model can move dynamically.

Fearsome (1)
Enemy units within 12" count as having 1 additional Psych ST while within range. Not cumulative with other Fearsome abilities.

Precision Kill
During casualty removal, penetrations with this ability are applied first and by the firing player.

Scout
This unit may deploy in no-man's land, but must be entirely in the owning player's table half. It may instead make a flanking maneuver when held in reserve.

Teleport (24")
When performing a Dash action, this unit can make a 24" dynamic move, but cannot end within 6" of the enemy or be on the move. If ending a teleport touching an obstacle or area terrain, it gains +2D3 STs. A unit cannot teleport in consecutive turns.


Unit Equipment
Commune Reactor
If desired, reduce result needed to pass a discipline check by 1 after seeing the result of the roll, but doing so gains the unit +D3 STs after the check is passed.
Cybel Blade
RNG
CQ
SHO
-
PEN
5
DAM
1
Special: Explosive (6+), Melee
Cybel Mines
Cybel Mines have the
Mine (2D3+1)
ability.
Mine (2D3+1)
During an Advance & Fire action, a model may set a mine instead of firing a weapon, placed touching the model. A mine is not active until the unit that placed it ends an action more than 6" away. The 6" area around an active mine is a minefield. A unit that moves through a minefield triggers it, gaining 2D3+1 STs, after which the mine is removed from the game. A unit that ignores dangerous ground also ignores a minefield.
Nox Pistol
RNG
12"
SHO
2
PEN
3
DAM
2
Special: Explosive (6+), Pistol
Rad Grenades
RNG
6"
SHO
1+SB
PEN
4+
DAM
1
Special: AoE (SB), F-PEN (4+), Grenade, Ignore Cover