Faction and Unit Rules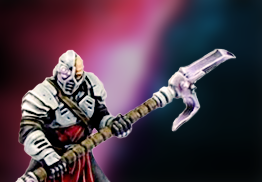 Angel Keeper
Using cybel energy as bait, a Keeper leads the bizarre aliens known as Angels into battle for the Karist cause.
Name
MV
EVS
SKL
AV
MAS
FOR
WP
Model Type
Angel Keeper
7
3
3
3
2
2
4

Infantry

(Human, Character, Priest Caste)
© Spiral Arm Studios 2023
UNIT OPTIONS
May be equipped with Ripper Rounds: +1 pt each.
1-4
Angel
0-2
Angel
0-2
Angel
0-2
Angel
testing
Unit Abilities
Angel Handler
Friendly angel units within command range of this model ignore their own Kill Mission ability, provided they aren't a large model. The normal restrictions against issuing orders to and/or joining an angel unit are ignored by an angel handler.

Command (1)
This model generates +1 command point each turn into your command point pool. Command points can be allocated to this model, not exceeding its WP. This model can issue an order to a unit within 18" when that unit is activated, removing STs from the unit equal to the command points expended. This model can issue up to 1 order per turn.


Unit Equipment
Commune Reactor
If desired, reduce result needed to pass a discipline check by 1 after seeing the result of the roll, but doing so gains the unit +D3 STs after the check is passed.
Cybel Goad
RNG
CQ
SHO
-
PEN
3
DAM
1
Special: Explosive (6+), Goad (Angel), Melee, Suppress (1)
Goad (Angel)
: A friendly Angel unit that either contains, or is in base contact with, a model with the
Goad (Angel)
ability may re-roll failed activation discipline checks.
Pulse Pistol
RNG
12"
SHO
2
PEN
3
DAM
1
Special: Explosive (6+), Pistol
Ripper Rounds
A Swarmer Grenade Launcher with Ripper Rounds can be fired as a Ripper Energy Grenade Launcher.
RNG
18"
SHO
1+SB
PEN
3
DAM
1
Special: AoE (SB), Explosive (6+), Ignore Cover, Suppress (1)
Swarmer Grenade Launcher
RNG
18"
SHO
0+SB
PEN
1
DAM
1
Special: AoE (SB), Suppress (psych 3D3)