Faction and Unit Rules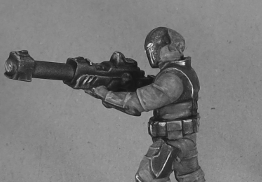 Reaper Cadre
Masters of stealth, Reapers lurk in the shadows, waiting for targets worthy of the kiss of their deadly longrifles.
Name
MV
EVS
SKL
AV
MAS
FOR
WP
Model Type
Reaper
6
4
5
3
2
1
4

Infantry

(Human)
© Spiral Arm Studios 2023
UNIT OPTIONS
May add up to 2 more Reapers: +4 pts each.
Up to 2 Reapers may replace Pulse Carbine with Pulse Longrifles: +2 pts each.
31.0123
Unit Abilities
Dug-in (+1)
The unit gains +1 to their cover value while pinned.

Scout
This unit may deploy in no-man's land, but must be entirely in the owning player's table half. It may instead make a flanking maneuver when held in reserve.


Unit Equipment
Commune Reactor
If desired, reduce result needed to pass a discipline check by 1 after seeing the result of the roll, but doing so gains the unit +D3 STs after the check is passed.
Pulse Carbine
RNG
18"
SHO
2
PEN
4
DAM
1
Special: Explosive (6+)
Pulse Longrifle
RNG
36"(48")
SHO
2
PEN
4
DAM
2
Special: Explosive (6+), Heavy, Long Ranged (+12"), Sniper (4+)
Pulse Pistol
RNG
12"
SHO
2
PEN
3
DAM
1
Special: Explosive (6+), Pistol